Technology is trapping the entire globe in its web through inventing various products for the people's comfort. In the previous era, all a thermostat did was switch on and off your cooling and heating. Today, you will find versatile thermostats having smart features. Mark Honeywell invented many residential and commercial thermostat. Honeywell is famous for providing the quality products. This company produces many smart thermostats that match perfectly with the digital era. Some of the highest rated Honeywell Thermostat have smart features built in that learn from your lifestyle and consider the outside weather in regulating the temperature. A smart thermostat has a large automation system that makes your heating or cooling system a bit smarter. However, it is necessary that you should get a smart thermostat if your budget does not allow. You can save your energy cost and enjoy a comfortable environment with an ordinary Honeywell thermostat. The wide range of Honeywell thermostat models gives you an opportunity to get the desired thermostat without breaking the bank.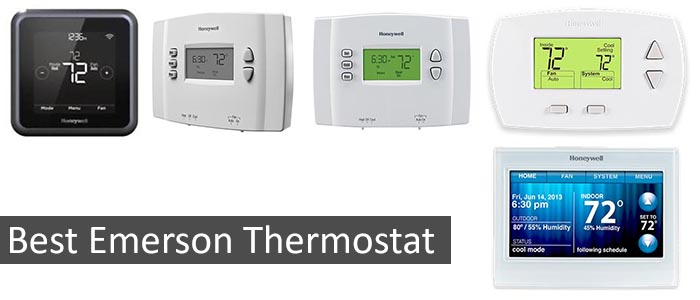 Finding the Best Honeywell Thermostat that suits your budget and needs can be a bit of minefield as there are hundreds of options available. You can easily navigate through this maze if you know some of the best quality thermostats and desired features. The first thing that you have to do is to clarify your goals like what type of thermostat you want.  Do you need a programmable thermostat that operates on a 7-day cycle or a Wi-Fi enabled thermostat? A smart thermostat can be completely different from the other options of the thermostat with some advanced features. Honeywell Company provides you with all types of the thermostat. Get the right one according to your needs. Here you will come to know about the top 9 thermostats with some highly appreciated features. Let's take a look at them!
Honeywell Wi-Fi 7-Day Programmable Thermostat is an ideal option for people who are fed-up of being kicked out of bed in the middle of the night because of extreme cold or hot environment. This thermostat works perfectly in business premises as well. It is a simple, good and affordable thermostat. Honeywell Wi-Fi 7-Day Programmable thermostat is great for those individuals who are not willing to pay too much for a fully featured smart thermostat but still want to control their home's comfort through their smart gadget. It comes with a basic screen that harkens back to the 90's, but you can control it easily with your touch screen phone. This thermostat is compatible with a wide variety of ventilation, air conditioning, and heating systems. Installing this device might not be that easy as it needs a 'C' wire to be able to function correctly but once installed, you can bring your home's control on your fingertips. There is an app for this thermostat on both Android and Apple system. The smart, responsive feature of this incredible thermostat will detect your home temperature and will adjust itself automatically. With this thermostat, you can get up to a warm and comfortable house in the morning. Read the full Honeywell Wi-Fi Programmable Thermostat Review here!
If you are looking for some beautifully designed thermostat, then get the Honeywell RTH9580WF Smart Wi-Fi 7 Day Thermostat. This thermostat is a worthy competitor for many other smart thermostats. It is perfect for that individual who does not like twisting a dial and would love to interact with the mini computer screen. The sleek design of this amazing thermostat hugs the wall of the device with less than 1-inch protrusion. This smart thermostat has a responsive touch screen loaded with information of indoor temperature, outdoor temperature, humidity, and thermostat status. This thermostat displays the simple on-screen alerts when you need to change the air filters. You can program its large, colorful and bright LCD screen to match it with the color of the wall on which it is mounted. However, if you get tired of matching the thermostat to the color of the wall, then choose another color from a long list of 14 color schemes. This thermostat can help you save money on your energy bills in various ways. The sleek design and simple controls of this thermostat make it the most popular Honeywell Thermostat. Read the full Honeywell RTH9580WF Thermostat Review here!
People with a hectic routine should get a thermostat with the one-week programmable feature. A Honeywell RTH221B1021/A 1 week thermostat is the great option for a basic operation that makes the programming easy. Once you adjust the temperature, you do not need to cool or heat your home to an optimum comfort repeatedly. This thermostat is a simpler model with day and night temperature settings. You will wake up in a cozy and warm room if you have this thermostat at your home. This thermostat not only provides you comfort but also let you save extra dollars on the energy cost. Installing this device is not a rocket science as it comes with easy to read instructions and will take less than 15 minutes to install it. It is compatible with your home cooling and heating system. This thermostat has become the popular choice of the people due to its versatile features. If you want a thermostat on inexpensive rates, then this thermostat is the ideal option that let you invest just $20 and make your home a comfortable place to live. With this thermostat, you can enjoy amazing features at very affordable rates. Read the full Honeywell RTH2300B1012/E1 Thermostat Review here!
Every person cannot spend more than $200 on a thermostat, so they often prefer to get the smartest thermostat on affordable rates. Honeywell RCHT8610WF2006 thermostat is the best option for an affordable price that you can control remotely from your smartphone. The sleek design of this thermostat gives it an expensive look. It is a smart thermostat that can flash the local weather forecast at you as you walk near it. This reasonably priced smart thermostat can work well with your smart and can be controlled by the voice commands. However, it might lack some of the smart features that you can get with expensive models of Honeywell. Its square design with silver-plastic beveled sides gives it a beautiful look. You can easily install this thermostat in less than 10 minutes. The process of installing this device is the same as the other models of the thermostat. Once you install it, it will start broadcasting a Wi-Fi signal to connect from your smartphone and let you control your comfort. You can alter the settings through the touch screen filled with lots of information. Get this great Honeywell Thermostat and enjoy your spare time at home. Read the full Honeywell RCHT8610WF2006 thermostat Review here!
Honeywell Company is popular for providing the best quality products. Honeywell TH3110D1008 Pro Non-Programmable Thermostat is a digital model of Honeywell available in just a few dollars. It is an imported model that gets the attention of the audiences due to its extremely low price. People want to install a thermostat in their home to enhance their comfort level. They want to get rid of waking up annoying due to extreme cold or hot. This thermostat has a digital display that shows both set temperature and the current temperature of your home. This backlit display is easy to read in different lightings. You just need to slide the switch to adjust the temperature and select the cool or heat. The basic thing that people often look in a thermostat is its installation process. This thermostat is easy to install and take just 15 minutes of yours. You can maintain the consistent comfort at your home with this amazing thermostat. The white color of this thermostat matches perfectly with the wall. It lies in the list of the Top Honeywell Thermostat due to its simplicity and budget-friendly nature. Get this thermostat to enhance your comfort level. Read the full Honeywell TH3110D1008 Thermostat Review here!
Honeywell RTH2300B1012/E1 5-2 Day thermostat is famous for its exceptional temperature control. It provides simple programming options so that people can operate it easily. It is a thermostat that works with any type of cooling and heating system. Customers give it extra points for providing the perfect temperature. You will enjoy an even and consistent temperature with minute degree controls of this thermostat. This thermostat comes with a backlit digital display that provides simple programming and improved functionality so that you can adjust the temperature according to your needs. Every day might come with a different temperature, but this thermostat will allow you to enjoy the right temperature depending on the hour of a day. You can control the climate with a push-button and save money on energy cost. This thermostat has a built-in compressor protection feature that helps to prevent the damage to the compressor in the heat pump system or air conditioning. You can easily alter its settings to fit it to your lifestyle. You can change it according to your habits and read the digits with an easy-to-read display of this top rated Honeywell Thermostat. It comes with many other attractive features. Read the full Honeywell RTH2300B1012/E1 Thermostat Review here!
Honeywell RTH6450D1009 5-1-1 Day thermostat is a very good buy which will work with most of the systems. This thermostat has a very neat looking little panel with a green colored backlit display. Its screen will display the set and current temperature. The best thing about this thermostat is that it can work with most of the oil single stage furnaces and electric systems. This thermostat comes with a soft-touch button that makes it easier to use. Understanding the menu system is also not a rocket science so that you can easily program it according to your lifestyle. Apart from the menu, its installation process is also not difficult and will take just a few minutes. With this thermostat, you can set a different temperature for weekdays, Saturday and Sunday. You can change the heating and cooling mode on weekends and enjoy your spare time comfortably. This thermostat helps you save energy as it has passed all the important legal requirements related to energy use. The smart response feature is one of the highly appreciated features of this thermostat. It suits perfectly to this age of technology where everything is getting smarter with every new morning. Read the full Honeywell RTH6450D1009 Thermostat Review here!
In this technological era, every person prefers to install a smart device that ensures a comfortable environment. Honeywell Company is one of the best electrical manufacturers on the globe that comes up with the smart features in a thermostat. This company has a good competition with other companies which are popular for providing both traditional and conventional products. Honeywell TH9320WF5003 Wi-Fi thermostat is one of the best current offerings of the Honeywell Company. It is one of the sophisticated models of thermostats that use the current technology. It is a good Honeywell Thermostat which is competing with the digital world. The fully functional color touchscreen display of this thermostat makes it a beautiful device to install in a house. You can even program this thermostat with your smartphone using the free apps. You can set the right color of the display that matches with the wall. It is an easy to install a device which makes it possible for every person to install in easily in their home. You will just need to follow the instructions mentioned in the manual. This thermostat allows you to remotely control the climate of your home and ensure optimal comfort. Read the full Honeywell TH9320WF5003 Thermostat Review here!
A good thermostat can help you better control the energy consumption without keeping the home at an uncomfortable temperature. The Honeywell RTH5100B 1025 Deluxe Manual Thermostat can help you keep your home at a comfortable temperature. It allows you to turn down the air conditioning before leaving home in the summer season and then turn it back up when you enter the home so that your home environment is comfortable. When their cold spells, you can do the same thing with the heat. This Honeywell thermostat is perfect for those individuals who love customizing their temperature settings. It allows you to alter the temperature that suits your taste. It is a non-programmable thermostat available on the inexpensive price that features some advanced temperature monitoring system. This thermostat allows you to swing the temperature according to your lifestyle. The green backlight screen and simple soft touch key operation make it easy to program. The best thing about this thermostat is that it works on all central cooling and heating systems. This thermostat is user-friendly as it comes with easy to read instructions. Enjoy your home environment with this versatile yet affordable Honeywell thermostat. Read the full Honeywell RTH5100B 1025 Thermostat Review here!